With the holidays officially here, an influx of purchasing has presented new methods for capturing consumers' attention. We're seeing retailers, brands, and REITs alike continue to get more creative with their approaches.
Investments on experiences and expanding tenants with pop-up stores and limited-time products continue to bring value to brick-and-mortar stores; we're also seeing the evolution of the store itself into more of a discovery hub.
When shopping for holiday gifts, oftentimes shoppers are not certain about their purchase list. They may have a category in mind ("sweater for Dad") but no specifics beyond that. Going to a mall offers a chance to narrow down the choices, or even see something more suitable that they would not have noticed otherwise. A chance to touch and evaluate their purchase, from size to price to quality, is also incredibly helpful during a stressful time.
Customer expectations have evolved
In parallel, customers are expecting much higher levels of care from their favourite brands and stores, including both offline and online messages. A recent report from RetailDive and Coldwell Bankers around retail technology for the younger generation found that "half of shoppers would give up lower prices online in exchange for advice from in-store associates or other personalized assistance."
This expectation extends to support in all forms, from offline to online. Automation and bots for customer support has become a focus over initial product suggestions from an algorithm. This increases efficiencies at the end of the process rather than the beginning, ensuring the potential for a repeat customer which can be more important than the potential of a new buyer.
Embracing mobile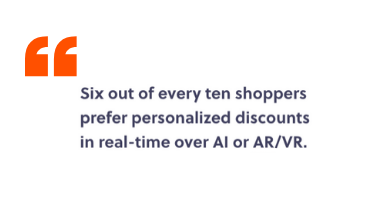 Initially thought of as the brick and mortar killer, mobile devices are now an enhancement to any store or brand experience. People use them to access in-store exclusive offers, as well as do research about the products they wish to purchase. The Cox Business survey found that six out of every ten shoppers would prefer personalized discounts that are delivered in real-time over other technological investments like AI or AR/VR.
At the most basic level, shoppers want a friction-free process. From TotalRetail, holiday shopping is already hectic to begin with, and customers will quickly change their destination, or worse, their shopping lists, if they see a long line or a complicated purchase experience. A seamless transition from online to offline and vice versa is crucial to keeping a customer engaged and will ensure the net is spread as wide as it can go.
Rethinking tech stack investments
As we're seeing the front-end usage change, we're also seeing companies go outside the box on their back-end. For example, AI is still being deployed but in a different manner. Rather than using AI on the customer-facing side of the equation, many businesses are starting to use AI as pattern recognition on the internal side: to track purchasing trends, supply chain efficiencies, and optimizing their day-to-day operations for the best possible end result.
Using AI to understand what data might be pointing to a fad and what data may be pointing to an industry or consumer change is a determining factor in understanding what decisions to make and when.
Going into 2020, we're expecting to see even more emphasis on data and the role it plays in informing day-to-day operating decisions. Once this holiday season is behind us, we're curious to see how retail fared this year, and what trends we will be seeing into 2020.
Have you seen our yearly data wrap up? Be sure to check it out on social, and let us know what holiday trends you see coming for this year.